A FREE, BI-WEEKLY E-NEWSLETTER ON THE MEDIA, ADVERTISING AND MARKETING
Follow Us On Twitter & LinkedIn For Exclusive Offers and Data Briefs
Sign up to access the Archives
Log in to access the Archives
Media Matters goes beyond simply reporting on current trends and hot topics to get to the heart of media, advertising and marketing issues with insightful analyses and critiques that help create a perspective on industry buzz throughout the year. It's a must-read supplement to our research annuals.
Sign up now to subscribe or access the Archives
---
TV: Everything Everywhere All At Once
A Total TV Dimensions 2023 Preview
In the 2020 edition of TV Dimensions we reported that while upwards of 73% of all homes had streaming capabilities, meter-based research indicated that streaming content accounted for only 10-15% of the typical adult's TV diet. Just three years later, the situation has reversed: the broadcast networks' share of an average adult's daily viewing activity is only 13%.
Yet "TV"—from linear to streaming—has never been more dominant in people's lives, with the average adult devoting 35 hours weekly to the medium in all its forms. Now TV is about access and control. Viewers don't necessarily want to pay for cable TV's bundles, which charge subscribers for channels they don't care about. But linear TV content providers aren't sitting back and letting go without a fight. The TV networks and major cable channels continue to move into streaming in a big way and are bringing their vast array of linear TV programming content—and commercials—with them. Their plan is obvious: keep what they can on linear TV, where ad revenues will pay for much of the content that will stock their streaming libraries; at the same time, create a meaningful alternate source of revenue through paid streaming subscriptions as well as ad sales on AVOD and FAST. The ad-supported option will attract many linear TV advertisers who will be willing to pay higher CPMs for superior demographics (younger, slightly more upscale) and, at least initially, less commercial clutter than is on linear TV.

It's not all clear sailing for streaming, however. Certainly, some streamers welcome the availability of ad-free services like Netflix and Disney+ because of their program content; these services tout their original programming as a lure to entice new subscribers. But subscription prices are escalating, and most cord cutters are discovering that they are actually paying more than they did for cable/satellite to access a full menu of programming. This tug of war between content providers and consumers will continue to play out as we proceed through 2023. Will consumers pony up to access their favorite shows across a multitude of platforms, and pay prices comparable to their old cable bills? Or will some platforms fall by the wayside as viewers become more selective—and cutthroat—with what they are willing to pay for? Or perhaps the middle ground will prevail, with ad-supported platforms bridging the gap? If this is the case, "TV" will look more than ever like TV in its glory days, with people willing to watch ads as the price for being able to see their favorite shows. It remains to be seen, and we at Media Dynamics, Inc. look forward to all of the changes the new year will bring to this ever-vital—and ever-changing—medium.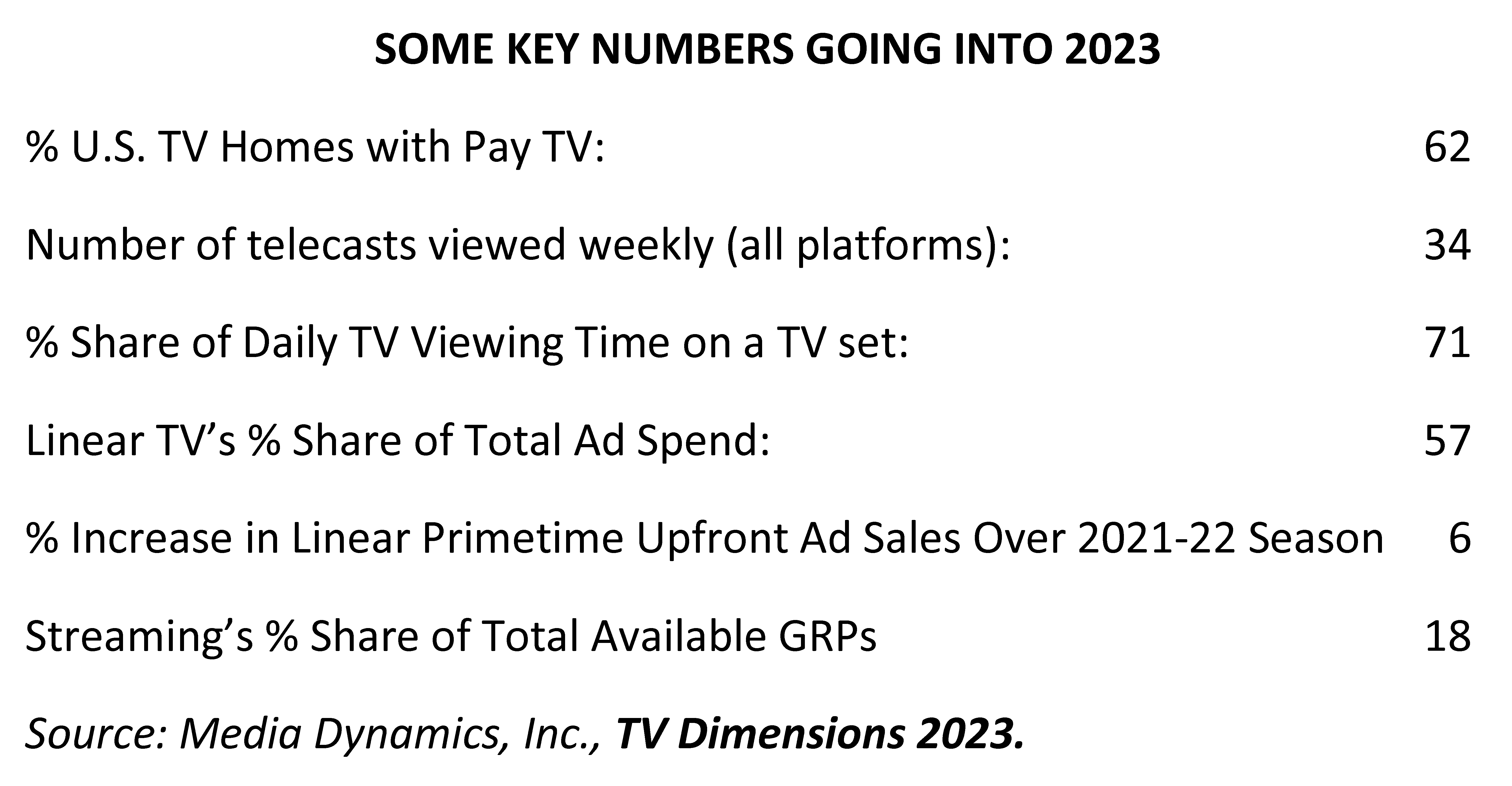 ---
Total TV Dimensions 2023 is currently available for pre-order and will be released on January 31st, 2023. Total TV Dimensions covers all aspects of TV's performance that are of interest to advertisers, ad agencies and TV time sellers. In addition to the basics like growth in penetration, rise of alternative forms of TV, time spent, reach and frequency patterns, CPMs, etc., it covers audience engagement, viewer attentiveness, evidence of ad impact, and many other subjects that subscribers will want to know more about. New to this edition are cross-platform comparisons, formerly published in our Cross-Platform Dimensions report. A complete table of contents is available here.
Total TV Dimensions is available in print or ebook editions. It is also included in a one-year subscription to our MDI Direct service, which offers on-demand access to all of our reports for one low price, including weekly ALERT reports delivered directly to our subscribers. More information, including a demo of this service, is available on our website.
---
0 Comments
---
---