A FREE, BI-WEEKLY E-NEWSLETTER ON THE MEDIA, ADVERTISING AND MARKETING
Sign up to access the Archives
Log in to access the Archives
Media Matters goes beyond simply reporting on current trends and hot topics to get to the heart of media, advertising and marketing issues with insightful analyses and critiques that help create a perspective on industry buzz throughout the year. It's a must-read supplement to our research annuals.
Sign up now to subscribe or access the Archives
---
ARE TRADITIONAL TV COMMERCIALS MORE EFFECTIVE THAN MOBILE ADS?
A Media Dynamics, Inc. Sample Alert
That's what a new study commissioned by Comcast, utilizing research from MediaScience, seems to show. In this case a sample of 188 people was recruited. Some were asked to use mobile phones to watch program content from YouTube and Facebook, which contained 30-second ad messages; others were exposed to traditional TV and streaming content that had 30-second commercials. In both cases a mix of well-known and unfamiliar brand messages was employed, and each viewer was exposed to two messages for each brand. The traditional TV and streaming phase took place in the respondent's home and involved the large screen family viewing set (we assume to replicate a normal viewing experience). Mobile exposure involved short form content on YouTube with the ads in pre-roll positions and Facebook content featured ads in the feed. MediaScience employed eye tracking as well as heart rate and sweat indicators of involvement to measure the outcome of these exposures.
As the accompanying table shows, 94% of the TV viewers saw the commercial that was presented twice in the content they were watching and 71% of the ad message's content was seen. This yielded an average unaided recall level of 44% (although it is not exactly clear whether the viewer had to prove exposure by describing what was seen). In contrast, only 64% of the mobile viewers saw the average commercial and those who did see the ad viewed only 30% of its content. This yielded an average unaided recall score of 20%, less than half the corresponding number for TV.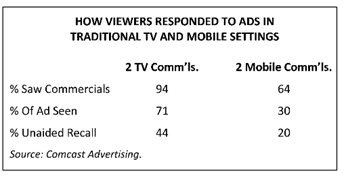 In fairness to mobile it should be noted that it may be unrealistic to use 30-second commercials on this platform due to the lower attention spans of such audiences; this alone could account for much of the differentials shown in the study findings. A fairer comparison might have been :15s for both TV and mobile. Also, adding an aided recall phase would, no doubt, have narrowed the difference.

Despite our assumption that the methodology attempted to simulate a real world exposure situation for TV and mobile, the reported commercial viewing levels for both seem to be much higher than those we've seen from TVision's attentiveness panel, which more closely offers a natural at-home viewing situation over long periods of time for its participants. This is because the MediaScience panelists were recruited for a one-shot experiment, which probably stimulated extra high attentiveness levels. This raises more questions about how to interpret these findings. As for the heartbeat and sweat sensor data, as well as questions that were asked about the program environments, their engaging qualities, etc., the information presented in the Comcast report does not provide much detail and, from what we can see, a lot more information will be needed before an attempt to interpret such findings can be made.

Regardless of the numerous issues we have cited, we welcome research of this nature, which adds to our knowledge even if the survey isn't perfect. We applaud Comcast for this initiative.
This MDI Alert report is one of 45+ issued annually as part of our MDI Direct service. A full listing of reports and additional sample reports can be found here.



DEVIL'S ADVOCATE: SUPER BOWL, SUPER VALUE!
Before we put Super Bowl LVII in the rearview mirror, we thought we'd take a look at how the cost of an ad in the big game compares to day-to-day ads. It's commonly cited that the CPM for a Super Bowl ad is roughly $55. On the other hand, the average 30-second TV CPM is around $30 (including both "linear" and streaming and including children and teens). This means that you pay 3 cents to "potentially" reach a viewer with one commercial as opposed to nearly double that for the Super Bowl. But given the amount of clutter and ad avoidance on any given day, might the Super Bowl's ability to deliver audiences who actually want to see the ads make it a good media buy after all?
The only way we would know for sure is if a lot of brands ran exactly one spot on the Super Bowl and nothing else and then compared the results against the performance of brands who run only one spot on other forms of TV and nothing else. In that unlikely event, you have a near perfect scenario for determining the outcome, relative to costs. Of course, this doesn't include the other high costs that Super Bowl advertisers often incur, such as very expensive commercial executions and heavy spending to promote their "sponsorship" of this major event. That might tilt the scales against a "Super Bowl" buy if anyone cared. But let's be honest, they don't. It's not a standard media buy; it's a special promotional event, with bragging rights given to any brand willing to shell out the big bucks.
---
0 Comments
---
---