A FREE, BI-WEEKLY E-NEWSLETTER ON THE MEDIA, ADVERTISING AND MARKETING
Sign up to access the Archives
Log in to access the Archives
Media Matters goes beyond simply reporting on current trends and hot topics to get to the heart of media, advertising and marketing issues with insightful analyses and critiques that help create a perspective on industry buzz throughout the year. It's a must-read supplement to our research annuals.
Sign up now to subscribe or access the Archives
---
A Realistic Look At SVOD Vs. AVOD Audiences
In a report released earlier this month, Antenna—a research company with a focus on subscription video—touted that SVOD and AVOD audiences are very similar when it comes to demographics. If true, this would be very good news indeed for AVOD platforms, since one of the major selling points for VOD platforms in general is their desirable demographics, compared to linear TV.
We ran the numbers and found that in some key demo breaks—subscribers aged 18-30 and those with incomes of $100-150K, for example—the audience profiles hold steady. It's worth noting, however, that AVOD lost ground among subscribers aged 31-40, and gained among subscribers 50+, compared to ad-free platforms. Similarly, when it comes to income, ad-supported platforms saw a 6.3% increase in the lowest income bracket but lost nearly 11% of those in the $150K+ bracket, compared to the ad-free demographic profile. Finally, ad-supported platforms showed a reversal by sex, with women more heavily represented, while ad-free platforms skewed towards men subscribers.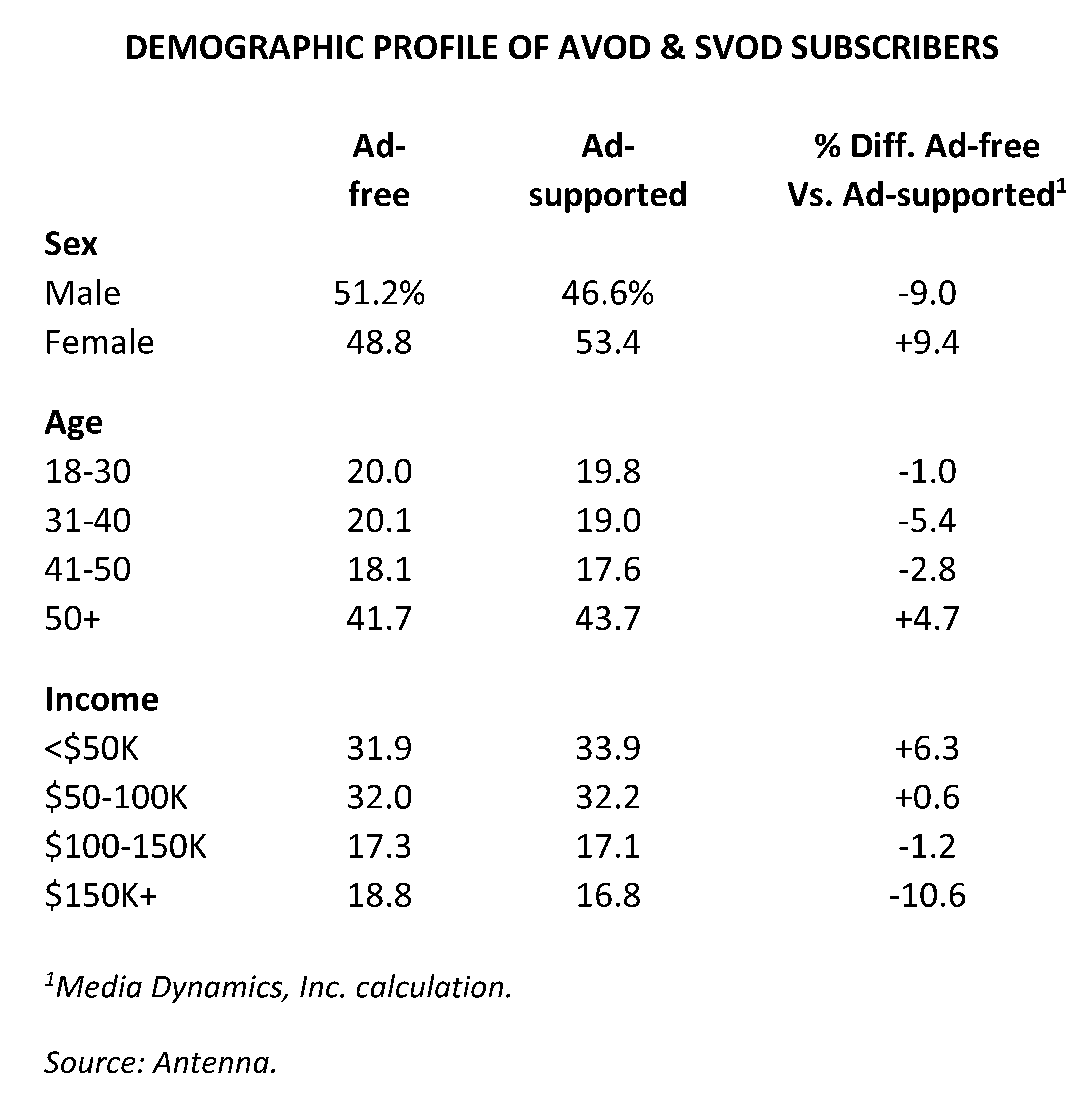 While Antenna's angle was to tout the similarity between the two audiences, to us, the numbers show that when ads come into the equation, the demographic profile leans more towards what we see with linear TV. That is, older and lower income. However, the differences are not so substantial that it makes AVOD an unappealing prospect for advertisers; this is particularly the case when it comes to AVOD holding onto the holy grail of targets: adults under 30.

And lest we seem dismissive of the findings, it's worth noting that per a dataset in a Nielsen report released last year ("Streaming Declassified—A Marketer's View," by Brian Fuhrer), a whopping 61% of linear TV's audience was aged 55 or older. Viewed from this perspective, Antenna's profile of ad-supported subscribers is very positive for streaming platforms looking to move in this direction.
Bad News/Worse News For Legacy TV From Nielsen
Broadcast TV got a major boost from the start of the new season, posting a 12.4% increase in September 2022 viewing compared with August, according to Nielsen's latest "The Gauge" report. The bad news, however, is that broadcast's share of viewing for September 2022 is down nearly 9% from its September 2021 levels. The news is even worse for cable, which lost 2% of its share from August to September 2022, but lost 11% when comparing September 2021 to September 2022. In the same two periods, streaming's share of viewing rose 33%, illustrating just how much of a bite streaming is taking out of legacy TV.

Nielsen's "The Gauge" Total TV and Streaming
---
0 Comments
---
---