A FREE, BI-WEEKLY E-NEWSLETTER ON THE MEDIA, ADVERTISING AND MARKETING
Sign up to access the Archives
Log in to access the Archives
Media Matters goes beyond simply reporting on current trends and hot topics to get to the heart of media, advertising and marketing issues with insightful analyses and critiques that help create a perspective on industry buzz throughout the year. It's a must-read supplement to our research annuals.
Sign up now to subscribe or access the Archives
---
How Much Does Age Impact Streaming?
Younger adults are more likely than older adults to report using a streaming service more than once monthly, According to a PCH Consumer Insights report, "Streaming In Flux." No surprises there. In fact, in a ranking of the top 10 streaming services, the findings were nearly identical by age. The only difference was that YouTube ranked first among 18-44s while Netflix came in on top among those aged 45-54. However, as streaming services become more obscure (see Crunchyroll), the gap widens by age, with younger adults indexing much higher in monthly use, which perhaps suggests that they are more likely to seek out and sample a wider array of streaming options.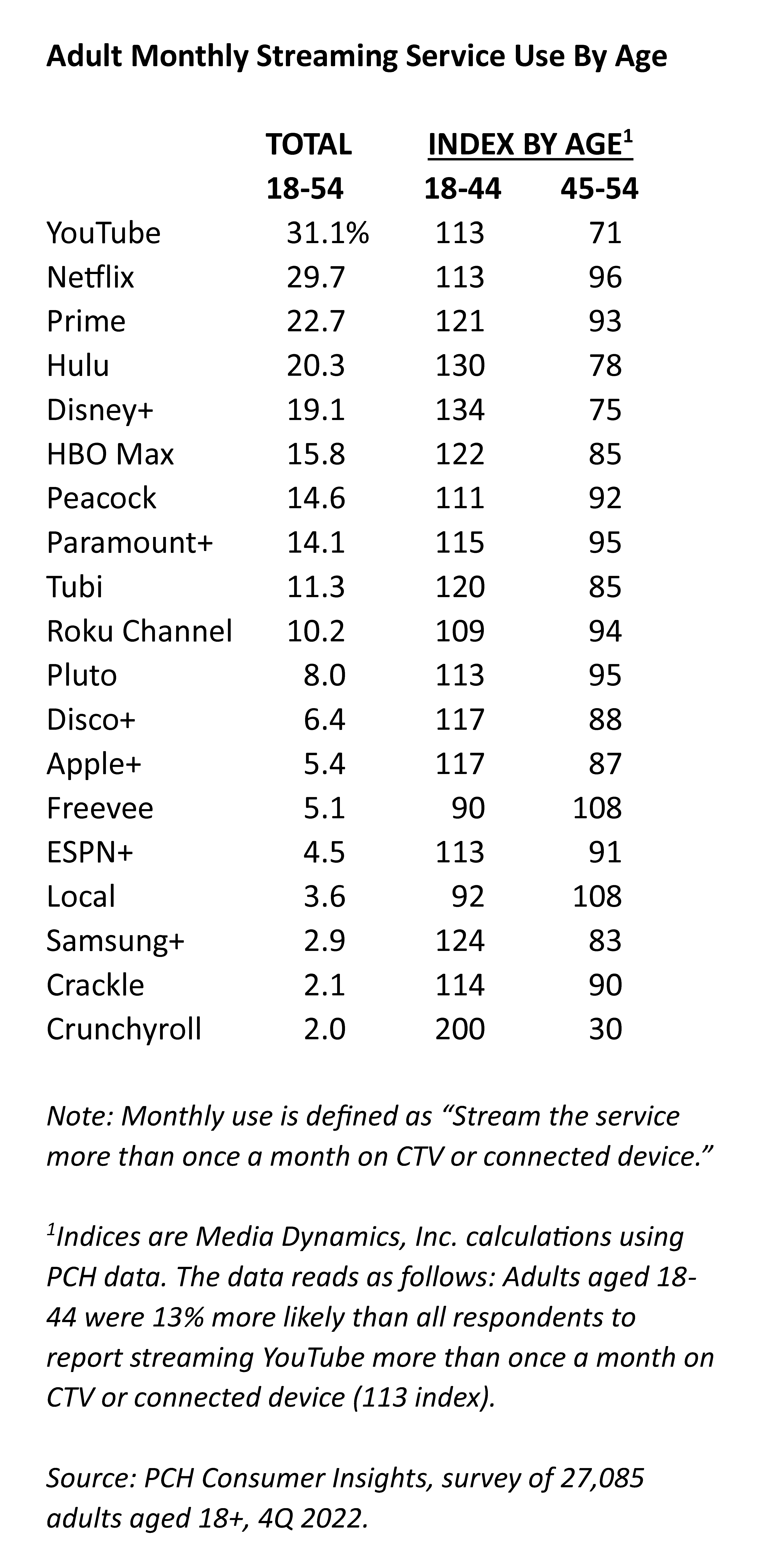 But what about the big picture? Pulling back to overall TV use, when asked which types of TV they watch daily or weekly, the rankings were as follows:

Here, we see that 56% of adults aged 45-54 reported watching legacy TV (MVPD and broadcast) on a daily or weekly basis, compared to only 34% of those aged 18-44. And while it is not surprising that 88% of adults aged 18-44 reported streaming to watch TV in this time frame, it's worth noting that 66% of older adults reported the same. Clearly this should be of concern to broadcasting and cable, as it appears that while older adults are willing to adopt a hybrid legacy-streaming model for their viewing, younger adults are significantly less likely to do so.
So, addressing the headline question, "How much does age impact streaming?", the answer is a lot when it comes to viewing in general, but not much in terms of which streaming services viewers are seeking out, at least as far as this particular report goes.
YouTube: Big Numbers, Big Ad Dollars?
As YouTube competes again in the upfronts, there's been speculation about whether they can expect more ad dollars to come their way, particularly from national advertisers who—it's hoped—will be drawn by their impressive audience numbers. And let's be honest: there's no doubt about YouTube's big numbers. In fact, based on Nielsen's stats and YouTube's own reporting, an average adult probably devotes 40-45 minutes per day to YouTube content via a TV set or a digital device. No other individual "TV" platform comes close to that figure.
There are some advertisers who will jump at the opportunity to advertise on YouTube, but generally speaking, theirs are more mundane or commodity products. However, there are a great many who do care about the nature of the content and what they perceive to be the "quality" of the productions. These are the kinds of advertisers who you see in the big primetime dramas and sitcoms as well as news, sports, and specials. They are willing to pay through the nose to be showcased in such content, often spending up to three times more per "viewer" to do so. The assumption is that placing ads in prestige programming generates greater attention levels. But these advertisers are also extremely image-conscious; running their ads in this type of programming is intended to impress their sales forces, distributors, and retailers. This is vastly different from pre-roll spots before random videos where "viewers" are told they can zap the message in five seconds if so desired.
So, the question boils down to this: how much of YouTube's usage provides the kind of commercial environment that advertisers prefer and is comparable with what they now get from linear TV and, to a growing extent, from CTV? It isn't—and never has been—just about the numbers.
---
0 Comments
---
---