A FREE, BI-WEEKLY E-NEWSLETTER ON THE MEDIA, ADVERTISING AND MARKETING
Sign up to access the Archives
Log in to access the Archives
Media Matters goes beyond simply reporting on current trends and hot topics to get to the heart of media, advertising and marketing issues with insightful analyses and critiques that help create a perspective on industry buzz throughout the year. It's a must-read supplement to our research annuals.
Sign up now to subscribe or access the Archives
---
Which CTV Platform Is "Winning"?
TVision's State Of CTV Advertising Report (February 2023), featuring findings for the second half of 2022, shows that there are many ways to evaluate the performance of streaming's top platforms. As shown in our compilation from the report, when it comes to household reach, Netflix wins handily, at 61%. YouTube comes in second at 55%, and the rest fall below the 50% mark. However, when it comes to share of time spent, YouTube edges out Netflix, and Hulu comes in third. Other noteworthy performers in this aspect are YouTube TV and Spectrum TV, which offer a cable-like experience for viewers. When it comes to viewers' first choice when watching "TV," YouTube pulls into the lead dramatically (24.2%), followed distantly by Roku at 10.1%. Finally, Netflix returns to the number one position when it comes to attentive viewing, which it shares with YouTube TV. Amazon Prime and HBO Max also scored well in this regard, likely reflecting their investment in original content (see below).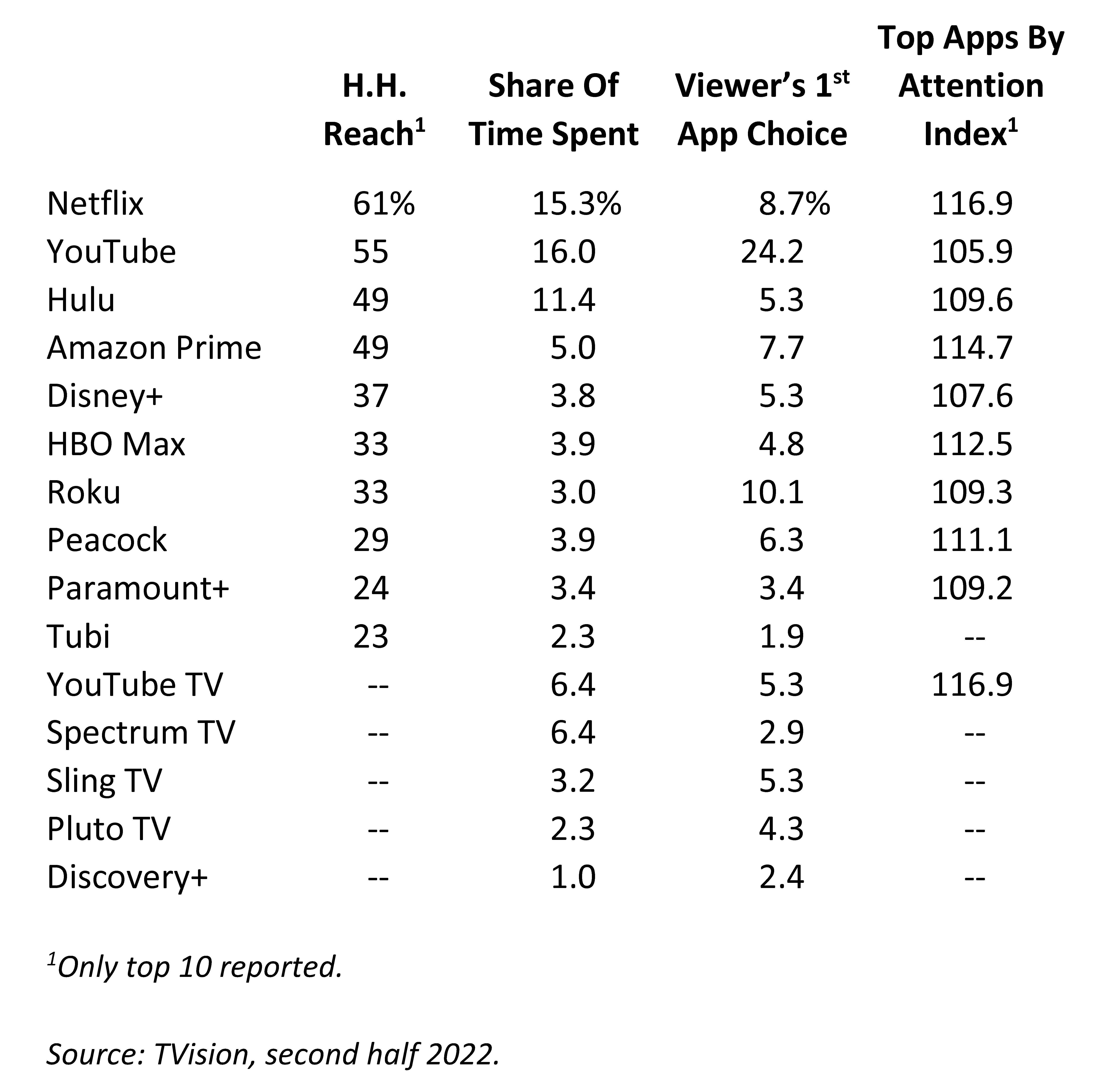 Perhaps the most interesting—and crucial—evaluation concerns which apps garner the most attentive time spent on ads. Here, YouTube falters, falling towards the the bottom of the rankings, while platforms that more closely resemble traditional TV, including familiar cable channels, rise to the top.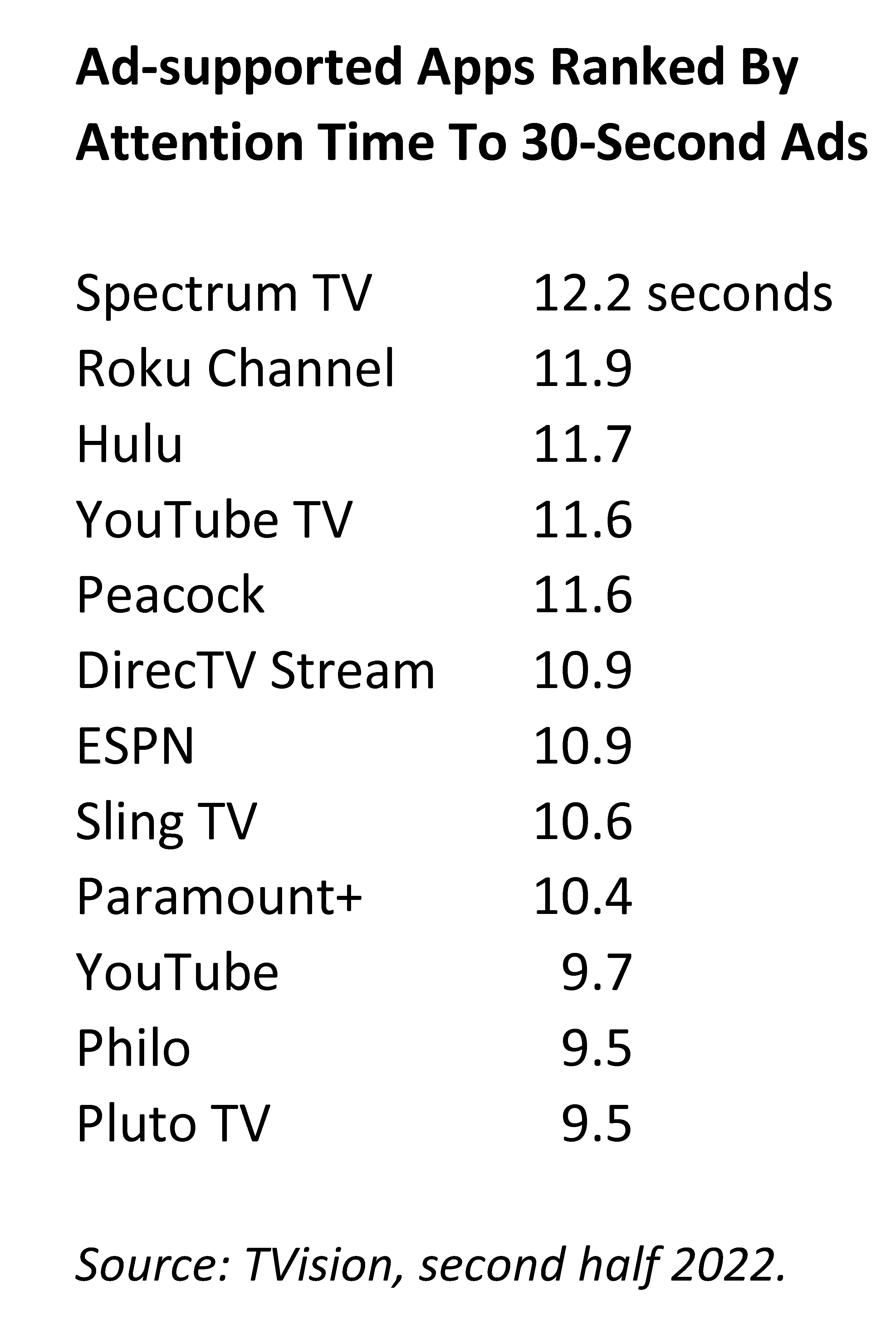 So perhaps the takeaway is that, just like with traditional TV, each advertiser chooses the venue that best serves their needs. YouTube is hugely popular, particularly among younger viewers, and generates a decent share of time spent. However, it lags when it comes to attentiveness both to content and ads. Netflix performs better in attentiveness and has the best reach, but its reported CPMs are double or more that of YouTube. It will be interesting to see what TVision reports as Netflix's ad data become available; it's unlikely that its ad attention levels will be proportionate to its CPMs, but as with traditional TV, it may not matter, as advertisers vie to appear in the latest buzzworthy original series.

Radio Still Dominates In Cars, But Shifts Gears Elsewhere
The latest Edison Research's Share of Ear report, covering full-year 2022, has some good news and bad news for radio. Among persons 18+, radio's share of audio time spent is 73%, with podcasts trailing a distant second, at 15%. And in the car, radio's lead widens, accounting for 88% of listening, compared to 6% for podcasts. However, a comparison of share of ad-supported audio listening presents a less rosy outlook. Here we see that over-the-air radio's share of listening has declined 26% over the past five years, while podcasts, SiriusXM and Spotify have seen significant gains in the same time period. Much like the situation for linear TV, OTA radio still has the lion's share of listening, but losing a quarter of its share of listening in five years must have radio executives taking a hard look at the future. Again, paralleling linear TV, AM/FM radio has made gains in streaming its content (up 117% since 2017), but the gains don't quite offset the losses. While we don't think that radio is dying, any more than we agree with the "linear TV is on its way out" pundits, we will continue to watch with interest how traditional radio deals with digital inroads moving forward.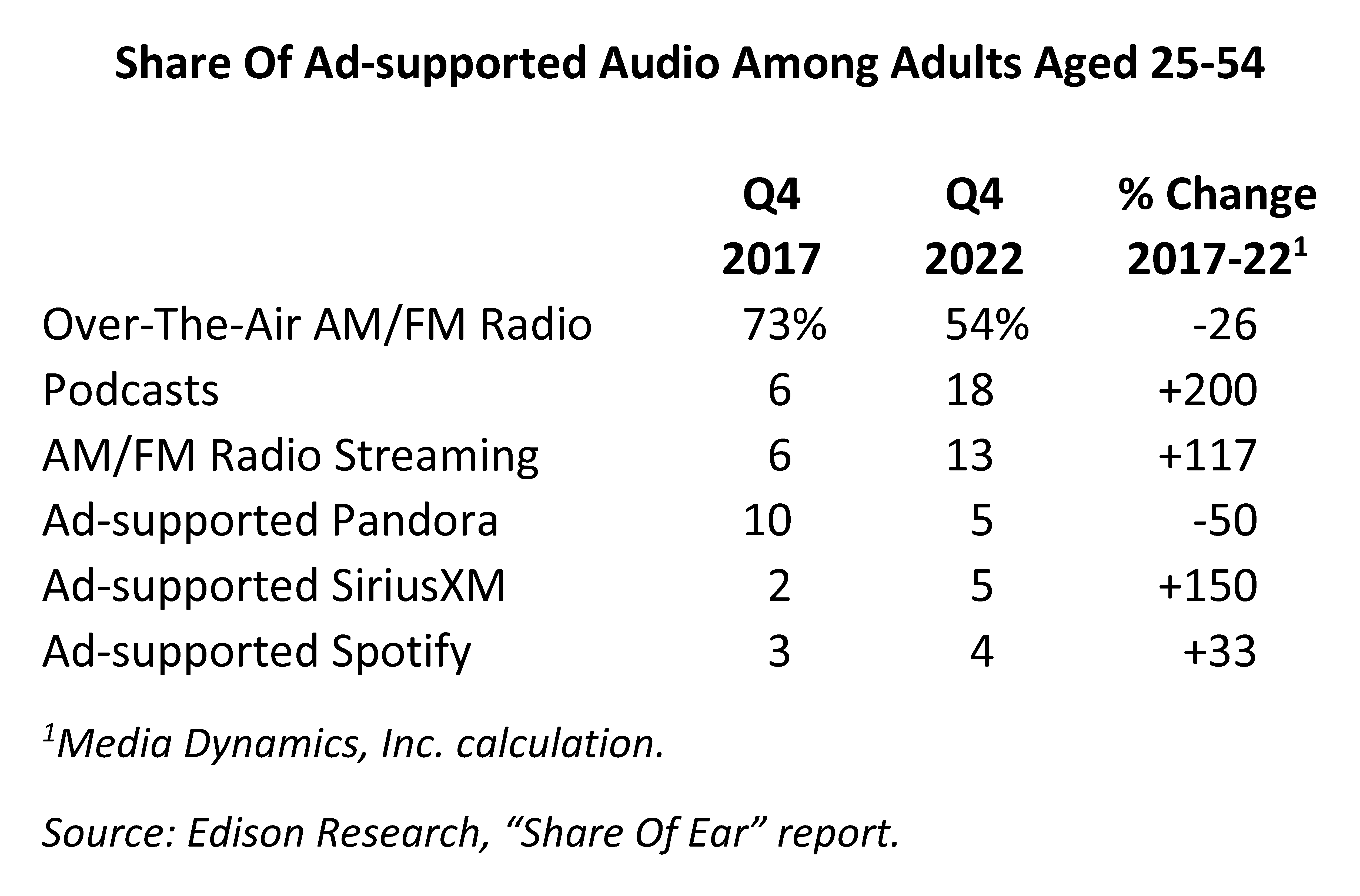 ---
0 Comments
---
---