A FREE, BI-WEEKLY E-NEWSLETTER ON THE MEDIA, ADVERTISING AND MARKETING
Follow Us On Twitter & LinkedIn For Exclusive Offers and Data Briefs
Log In to Access free Media Matters archives
Media Matters goes beyond simply reporting on current trends and hot topics to get to the heart of media, advertising and marketing issues with insightful analyses and critiques that help create a perspective on industry buzz throughout the year. It's a must-read supplement to our research annuals.
Sign up now to subscribe or access the Archives
---
WHO'S FUNDING THE RESEARCH?
PART I: Demonstrating the Popularity of Streaming Content Apps
More than half of U.S. adults steam content via apps, and among this group, Netflix was far and away the most popular app, with 73% reporting using this service to stream content, according to a recent study conducted by Ipsos on behalf of TCL. The survey queried adults who claimed to use apps to stream content (either directly on their TV or through a smart device connected to their TV), to find out which apps were most popular by sex and by age group. The results were fairly uniform across age groups and, Netflix aside, the usual streaming content suspects led the pack—namely YouTube, Amazon Video and Hulu. The music apps Pandora and Spotify also ranked the top 5, showing that, among streamers, TV is becoming more of a multi-media device.
While the name TCL might not ring a bell, you might recognize Roku TV, which TCL manufactures, and which unsurprisingly offers all of these apps through its interface.
Despite the obvious interest in promoting the use of streaming apps, the study nevertheless provided a potential ray of hope for traditional media, showing the representation of a fair number of network and commercial cable entities, as well as iHeartRadio (highlighted below). People may not be watching traditional "linear" TV in as considerable numbers as before, but they're still interested in watching and listening to the content these programmers provide.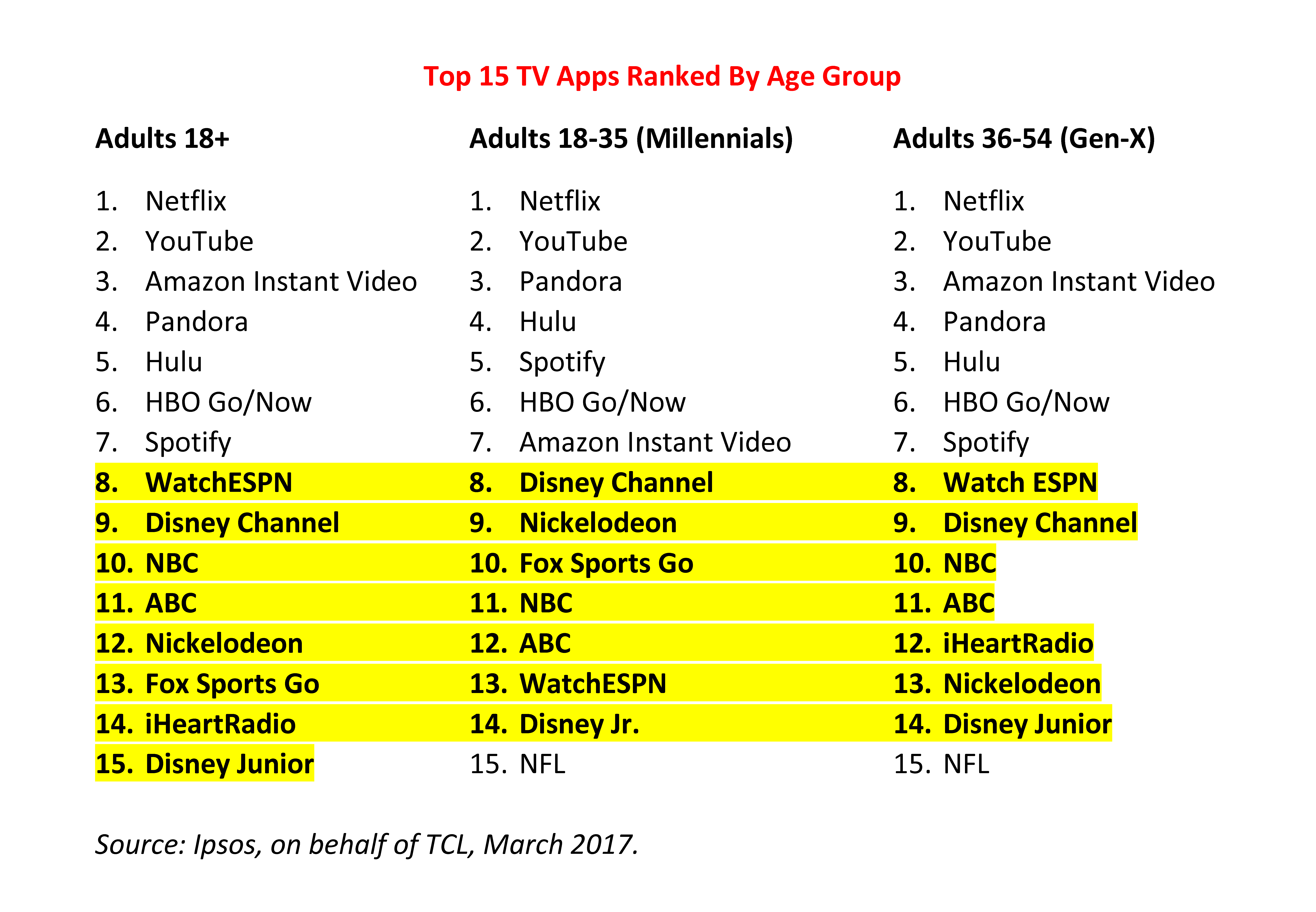 WHO'S FUNDING THE RESEARCH?
PART II: TV Platforms Still Tops, Compared to Social Media
Another recent study, also conducted by Ipsos claimed, among other things, that:
68% of TV platform viewers look forward to or are excited about viewing programming in this manner, compared to 49% of social media viewers

TV platform viewers are more invested than social media viewers in the content of the programming (68% versus 61%).

TV platforms are considered more engaging than social media options (31% versus 23%)

Social media viewers claim to be less attentive to programming than TV platform viewers (27% versus 21%)
The conclusion? "When it comes to delivering invested, engaged and excited audiences, we believe there's no better platform, in all of its forms, than TV," summarizes Manu Singh, Group Vice President, Commercial Insights & Digital…at Discovery Communications. Although we don't necessarily debate the findings, social media viewing is by its nature a less involving experience and, as such, is a pretty easy target to put TV in a positive light.
---
0 Comments
---
---