A FREE, BI-WEEKLY E-NEWSLETTER ON THE MEDIA, ADVERTISING AND MARKETING
Sign up to access the Archives
Log in to access the Archives
Media Matters goes beyond simply reporting on current trends and hot topics to get to the heart of media, advertising and marketing issues with insightful analyses and critiques that help create a perspective on industry buzz throughout the year. It's a must-read supplement to our research annuals.
Sign up now to subscribe or access the Archives
---
TV'S 2022-23 PRIMETIME UPFRONT CLOSES WITH MODEST GAINS
Media Dynamics, Inc. releases preliminary estimates in advance of its annual upfront and CPM-CPP reports
While a few minor deals are still being negotiated, it is possible for us to release our estimates of ad spending and CPMs for the 2022-23 primetime upfront as these will not substantially alter the projections.
It appears that the five broadcast TV networks took in $9.9 billion in primetime sales—up a modest 6.4% from the previous upfront—while the cable channels sold $10.2 billion, a 5.2% increase. In total, the "linear TV" upfront was up 5.8%, to $20.1 billion.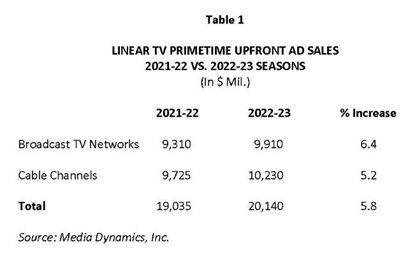 The sellers did better when it came to CPMs for 30-second commercials, averaging a gain of 9.6% for the broadcast TV networks and 6.6% for cable, however these increases were well below last year's spectacular hikes due to buyer concerns about the looming threat of an economic recession as well as the shifting of considerable amounts of national ad spend to streaming venues. Linear TV sellers were willing to trade off smaller CPM increases for their linear TV platforms in exchange for increases—often at higher CPMs—for their streaming services (see Table 2).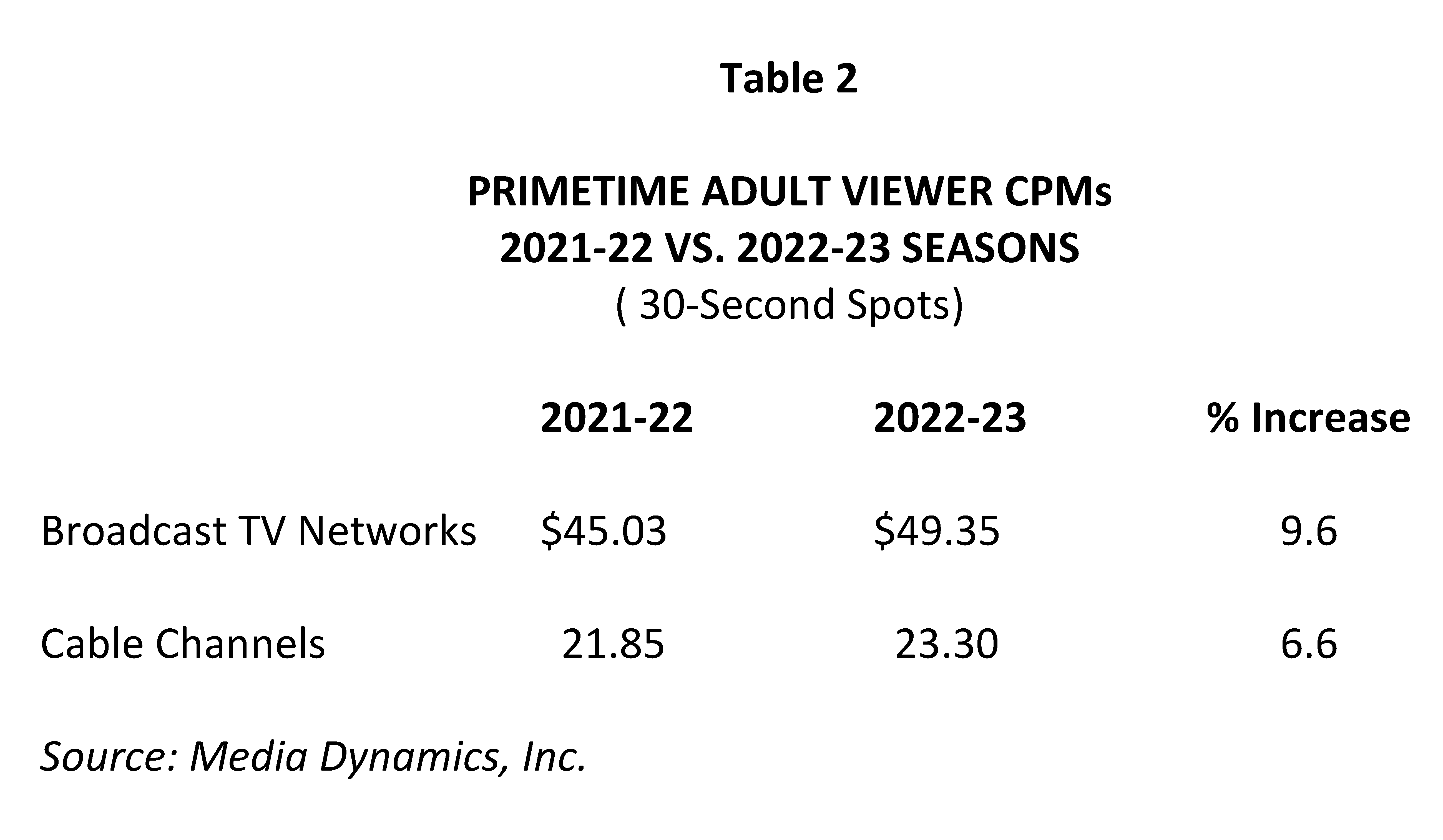 It should be noted that the primetime upfront figures we are reporting do not reflect the totality of the upfront. Upfront ad sales by the broadcast TV networks as well as cable channels and national program syndicators in other dayparts (early AM, daytime, early evening, prime access, and late night) amounted to $10-12 billion, while the broadcast TV networks and some cable channels also sold about $2 billion of digital ad time, mostly in the form of sponsored episodes of primetime shows on their websites. Finally, approximately $5-6 billion went to upfront buys on CTV/AVOD platforms. So, the total upfront involves about $36-40 billion, not just the $20 billion that the broadcast TV networks and cable channels garnered for their "linear TV" primetime programs.
Commenting on the 2022-23 upfront, Media Dynamics, Inc. president, Ed Papazian, noted, "a definite softness in cable sales relative to broadcast, as many buyers felt that they were better off diverting fairly large sums to streaming venues, despite their higher CPMs, as a hedge against future scatter market pricing for broadcast prime." Papazian further pointed out the continuing bias against cable that is part of the story: "Cable's CPM advantages aside, many advertisers feel that the erosion of cable's reach due to cord cutting, the perceived lower quality of much of its program fare, plus over commercialization, makes it less desirable than broadcast TV network prime placements and what can be had on CTV/AVOD."
Total TV Dimensions 2022 and MDI Direct subscribers will receive a more detailed report on the 2022-23 upfront in the August 2nd issue of TVD Alert. MDI's proprietary upfront CPM-CPP estimates will be released September 15th in the annual ACES report, followed by CPMTrack on September 30th. Customers who pre-order either report can save $50 off the cover price. Enter code UPFRONT50 at checkout.

COMING SOON

CONSUMER DEMOGRAPHICS AND BEYOND
The latest report from the research team at Media Dynamics Inc. will provide MDI Direct subscribers with a complete run down on a very important subject: the changing demography of the U.S. population based on the recent census as well as numerous governmental projections for the past and future. Everything is covered, sex, age, marital status, household size, education, income, regional variations, market-by-market changes, occupation breakdowns, etc. and, in many cases, interesting combinations of demos (by "cells"), which are even more revealing. For example, did you know that 35% of adults aged 65+ now have a college/university degree while another 10% have an associates degree and 17% have at least one year of college education? In short, 62% of our "oldsters" have had at least some college training, a far cry from the situation prevailing forty or fifty years ago.
Normally, a report such as this goes only to our MDI Direct subscribers at no charge, but this one will also be available for sale to non-subscribers. So stay tuned. BTW, if this kind of thing interests you, check us out and consider becoming a subscriber: www.MediaDynamicsInc.com


---
0 Comments
---
---